Build Your Tracking Page with the Malomo Tracking Page Creator
Malomo's Tracking Page Creator is a lightning fast method to create and customize a branded tracking page within your Shopify theme. With two clicks, your new tracking page can be up and running!
Start directing customers to your page immediately or easily add existing theme sections, branding elements, assets and other Shopify apps. You can also get creative and create multiple tracking pages in order to segment your tracking experiences based on buyer data.
With our new Tracking Page Creator, you can:
Spin up a functional tracking page in just a few minutes. Your new tracking page includes the following content out-of-the-box:

Your store header

Malomo banner section

Placeholder banner image

Malomo Shipment Tracker block

Featured collection section

Your store footer

Skip the manual steps of creating a new API key, creating a new Shopify page and assigning a template, adding our theme app block to your page, adding custom code to support a banner image, and more.

Use Shopify's theme editor to customize your page and add additional content.

Create multiple tracking pages and manage them within the Malomo dashboard.
This guide will help you create your new tracking page, answer common questions, and tell you what to expect during beta.
---
Article Contents:
---
How to Create Your Tracking Page
Requirements
You will not be able to create tracking pages until you have updated the permissions for our Shopify integration. If you see a prompt at the top of the Tracking Page Creator page, click the button to make any necessary updates using your Shopify credentials.
For new customers

Enable and authorize the Shopify integration via the Apps page.

For existing customers

Ensure your Shopify integration is up-to-date.

We require additional API permissions for your Shopify integration (why do you need this?).

If needed, you will be prompted to update your integration when you land on the Tracking Page Creator in the Malomo dashboard.

You may not see this prompt if you have recently installed or reinstalled the Shopify integration.

Instructions
1. Navigate to the Tracking Page Creator section within the Malomo platform.
2. Click the Create a Tracking Page button to get started.
3. Enter the following details in the modal window:
Page Title

We suggest something simple and straightforward like "Track Your Order" or "Order Tracking".

Page Description (optional)

This field is for your notes only and is not shared with Shopify. Use this field to add any helpful notes for you or your teammates, especially if you create multiple tracking pages.

Store Domain

We will auto populate this field for you. If your store has multiple domains, make sure to pick the appropriate domain from the list. If you do not see your desired domain in the list, you can edit the suggested domain in the input field.

Page Suffix

This is the final piece of your new tracking page URL. Again, we suggest something simple and straightforward like "order-tracking".

URL Preview

This is a preview of your new tracking page URL based on the text entered in the Store Domain and Page Suffix fields.

Set as default tracking page URL (what's this?)

Check this box if this is your first Malomo tracking page.

Uncheck this box if you are already directing traffic to a different tracking page and are not ready to switch to your new page.

You can change this setting later by following these steps.
4. Click the Create Tracking Page button to generate your new page. You will see a success message and the details of your new page will appear in a list.
5. Preview your live page. Click the Preview link to see your live tracking page.
6. Customize your page in Shopify's theme editor by clicking the Customize My Page button.
Replace the default banner image

From the Layers panel, click on Malomo banner

From the Settings panel, you'll see Desktop Image and Mobile Image sections at the top of the options list. Add a new image to the desktop and mobile image sections and adjust any related settings. If a mobile image is not selected, a tracking block only with no image will appear when viewed on a mobile device.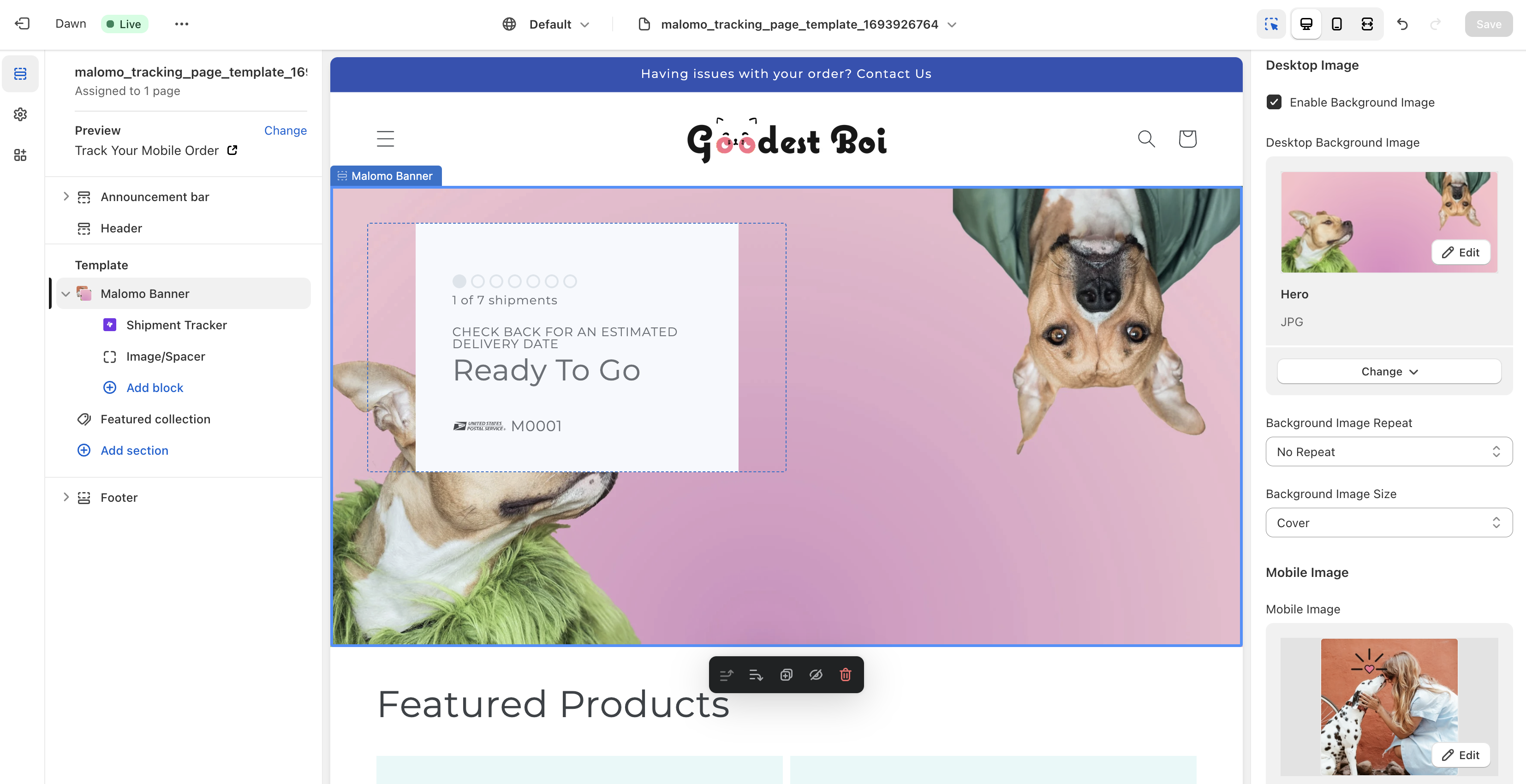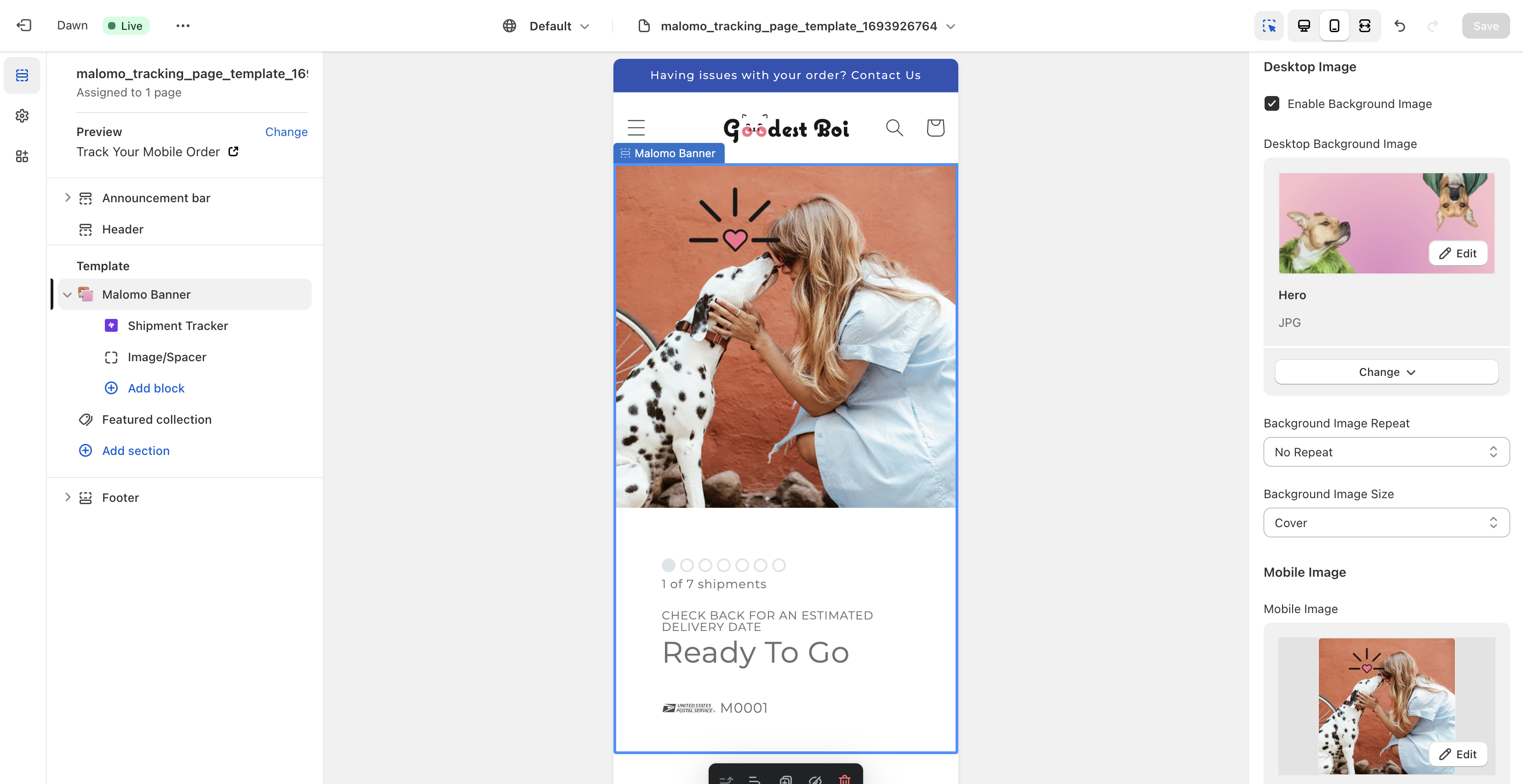 Style the tracking block

Customize the look of the tracker by editing the options in the Buttons and Inputs sections. Make sure to change the element selector between Shipment Tracker and Order Lookup Tracker to customize all options. Learn more about customization options here.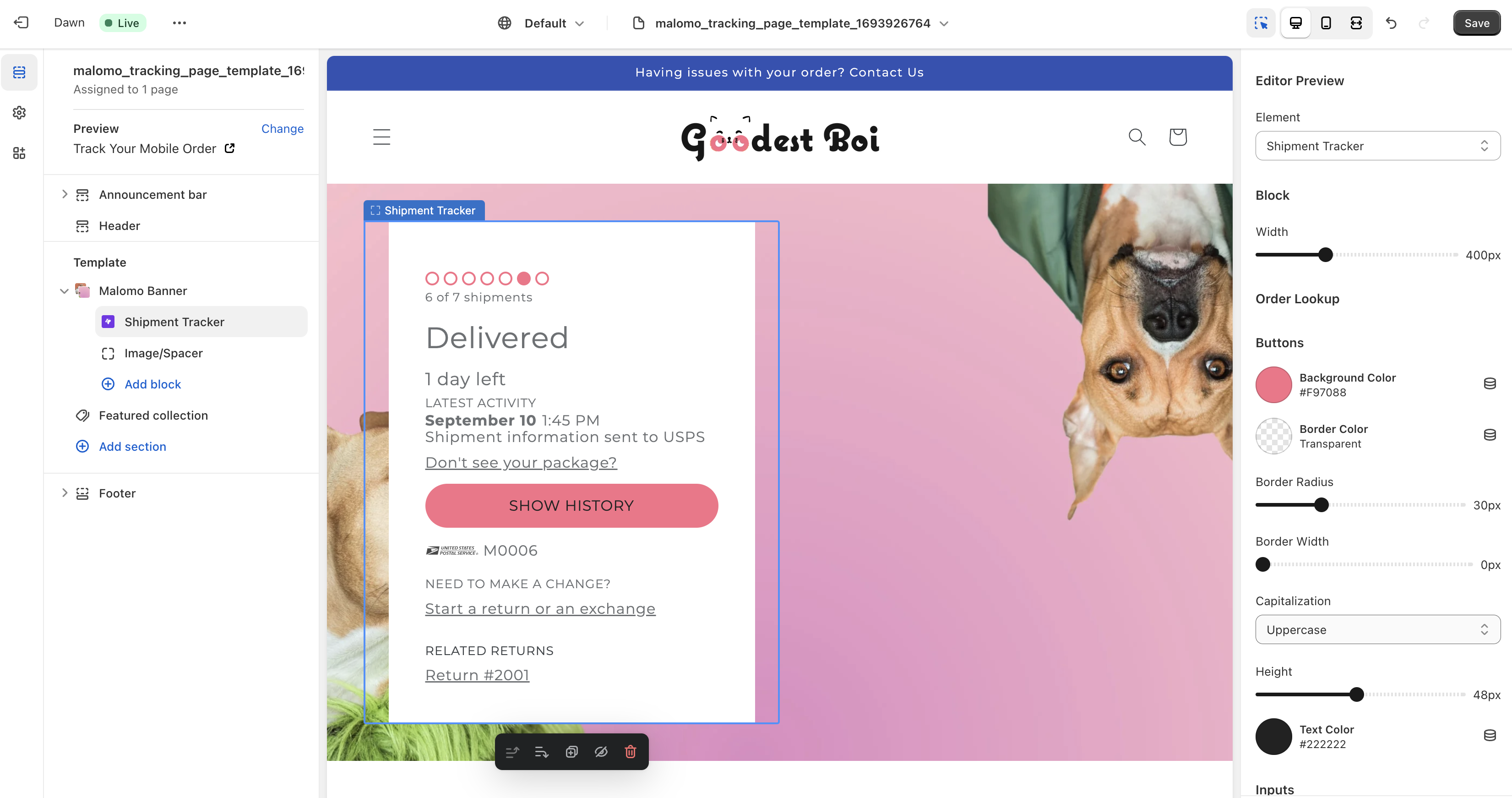 Add a Collection to the Featured collection section (don't see this?)

From the Layers panel, click on Featured collection

From the Settings panel, click on the Select collection button, add a collection, and adjust any related settings.
7. Save your changes and preview your page.
8. Add desired additional page content using your theme editor. Looking for inspiration? Check out some of our favorite tracking page examples from other Malomo customers in our Post Purchase Plays section within the dashboard or on our Inspiration page on our main site.
9. Once you're ready to direct customers to your new page, please set the default tracking page URL if you haven't already. Our integrations use the Default Tracking Page URL to generate dynamic tracking page links within all of your connected apps.
FAQ
Why do you need additional Shopify API permissions?
The Tracking Page Creator requires additional API access scopes in order to create and manage pages, page templates, and page content on your behalf.
What is the default tracking page URL?
Our integrations use the Default Tracking Page URL to generate dynamic tracking page links within all of your connected apps via the order.url variable.
Learn more about using this variable to link to your tracking page in your connected apps.
How do I set a tracking page as the default tracking page URL?
If you are ready to start directing traffic to a tracking page you created using the Tracking Page Creator, follow these steps:
Find the desired tracking page in your list of tracking pages

Click the icon in the upper right corner of the page details card

Click "Set as default tracking page URL" from the options
You will see a success message when your default tracking page URL is updated

How do I know which tracking page is set as the default tracking page URL?
In your tracking pages list, your default tracking page is denoted with a star icon to the right of its page title.

Why doesn't my page include a
Featured Collection
section?
We use Shopify's out-of-the-box Featured Collection section, which is compatible with Shopify's free vintage and 2.0 store themes.
Your page may not include a Featured collection section if you are using a custom theme or a paid theme from Shopify's theme store. You can browse your theme's available sections in the theme editor to find a comparable section.