Best Practices for Klaviyo Flows
Now that you are a part of Malomo we want to help you create the best post purchase experience for your customers. This article will walk through some of the best practices for Transactional emails, and the recommended flows that need to be included in your Post Purchase CX.
Recommended Flows:
Order Confirmation: "Your Order is Confirmed"
(This can only be migrated into Klaviyo for Shopify Plus Customers). This is the first email that a customer receives and it sets the tone. Customer look to this email to confirm that the order went through, and it is the first interaction they will have with the post purchase emails.
If you are not currently a Shopify Plus customer, you can still update this email to match the styling of the emails. See this guide for how to do that.
Pre-Transit/Shipment Created: "Your Order is Packed & Ready to Go"
(This can only be migrated into Klaviyo for Shopify Plus Customers). This will be the first shipping related email the customer received from you which will contain all of the info they need in order to track their package, and be directed out to the Malomo Tracking page. This email is sent at the time of fulfillment and can be triggered off of the pre-transit carrier status or the Malomo: Shipment Created metric in Klaviyo. Again this email cannot be turned off if you are not a Shopify Plus customer. See article here for how to design emails in Klaviyo and export into Shopify.
In-Transit: "Your Order has Shipped"
This email is unique to Malomo and is not available in Shopify today. This email will send from Klaviyo regardless of Shopify Plus or Standard. This email is triggered when the carrier picks up the package from your warehouse or fulfillment center, and is an important piece to drive the customer to the tracking page as they will see an estimated delivery date at this time.
Out for Delivery: "Your Order is Out for Delivery"
This email is sent when the carrier has sent back the status of our for delivery once the package is in the vicinity of where it will be delivered. This is an exciting time for the customer as they are anticipating the delivery of their package so it is important to have this email included in the flows to drive more page views and chances for conversion
Delivered: "Your Order was Delivered"
This email is an important notification, and one that all customers look forward to receiving. It is always helpful to include your support email, and note from the brand thanking them for their purchase. You can also use this same email flow to trigger post purchase emails to the customers that are opted in to your marketing campaigns. It is a great time to educate customers on their product purchase, and get them more involved with your brand and mission. With Malomo you know when the package has been delivered, and can time other marketing emails off of this flow to send so it is super important to have.
Exception and Problem Order Flows:
Exception and Problem Order flows are also useful in proactively notifying customers. This is also a great way to stand out from other brands!
Order Delayed / Stalled: "Your order is Running Late"
Proactively notify your customers to slow or delayed shipments and prevent "Where is my order?" support questions. With our Problem Orders feature, you can customize our settings to determine when an order should be consider stalled. Our "FulfillmentStalled" problem type is defined as an order that has been created but has not been fulfilled in the specified time frame. Our "ShipmentStalled" problem type is defined as an order that has been fulfilled or is in transit and has not received a scan update in the specified time frame. Use these email triggers to notify your customers that that the shipment is running late, as well as provide additional carrier information pertinent to the shipments and recommending that they continue to check their tracking page.
Delivery Attempted: "Your order was unable to be Delivered"
This email is used to notify your customer that a delivery attempt was made but was unsuccessful. Carriers will generally make 3-4 delivery attempts before deeming a package undeliverable. At that point, the status will change to either, "Available for Pickup" or "Return to Sender," based on your shipping settings. But delivery failure does not always mean there is a problem. It likely means the first delivery attempt was unsuccessful, and the carrier will try again. At this time, you can use messaging like, "your shipment has been delayed," or "a delivery attempt was made" and tell your customer to check the tracking page for the latest details.
Available for Pickup: "Your Order is Available for Pickup"
This email can be important for brands, especially ones that may require a signature upon delivery. If the package is not able to be delivered and it goes to the nearest carrier facility for pickup, this email will trigger informing the customer of that, and the info on where to pick up will be within the tracking page. This is super helpful to avoid the "where is my package" question that a lot of brands get when the delivery of the package is out of their hands.
Return to Sender: "Your order has been returned to sender"
This email is a great way to proactively notify customers that something went wrong and the package was not able to be delivered. It is helpful to include your support info in this email so the customer can get ahold of you and update the address on file (this is the typical cause for this type of issue). You can also choose not to send the email to the customer, and instead do an internal notification to your support team internally, so they can proactively reach out to the customer.
What is the Flow Action Status?
Each flow action in the series is allocated a draft, manual or live status. You can individually change the status of an element from the left-hand panel, or you can do mass status updates through the bulk updating feature.
Here's an explanation of the different statuses:
Draft status – Draft status is the default status when a new message is incorporated and maintained while an action is still in the configuration stage. With a draft status, no contacts line up to receive the message until the status is changed to live. You can even change the setting of a live status to a draft status if you want to skip over a specific message and stop it from being sent out in the series.
Manual status – The manual status is oft chosen during the testing stage of an action, after configuration. During this stage, the message appears to be active only in your flow but remains inactive in sending the customers. So if a message has the 'manual' status, you need to send it out manually. And for a contact labeled 'needs review,' the series will directly move to the next active step.
Live status – Live status is the status assigned to a message when it is ready to be an active part of the flow series.
Understanding Klaviyo Flow Analytics
You can understand a flow's performance by viewing message performance across the entire series. By simply selecting 'Show Analytics' from the top header menu, the Visual Flow Builder will lay out the analytics upon the visual canvas. You can also view key performance metrics filtered by adjustable timeframes. A 30-day analytics snapshot is also available out-of-the-box for each message card.
Segmenting Flows for Different Experiences
One of the things that most subscription brands like to do is segment their Klaviyo flows for their subscription customers vs one time purchasers. This allows you to personalize emails for those different segments. For example, if you are segmenting out by subscriber vs non subscriber, you can add info to the emails that are relevant to that segment, such as a subscription offer to your non subscribers, or promoting the referral program to your current subscribers. However you choose to go about it the Malomo Platform/Klaviyo integration allows you to hone in on your target audience and deliver emails to that specific segment of your customer base with a tailored message to them. On top of this, these segments can also have their own unique tracking page experience they can be directed to (ask your Malomo CSM or help@gomalomo.com for more info on how to achieve this).
Building a Post Purchase Email Series off the Malomo Flow
With Malomo your customers will receive the transactional shipping updates along the way, but what is the best way to engage with the customer after their package has been delivered? With Malomo, you know when the package is delivered to the customer. Post-purchase emails can then be setup within the Malomo Delivered email flow to trigger marketing related emails to keep customers engaged (delivered flow is the one we recommend doing this on as the you know the customer has received their package) . In this purchase series you can then send a follow up email a few days after they have received their order, and thank them for their purchase, or ask for things like a product review, referral, offer a discount code on their next purchase, and many many more. There is no limit to the creativity that can be applied here to fit your brands voice, and keep your customers engaged.
See the screenshot below for inspiration on segmentation, and post purchase series (example below is built off of the Malomo Delivered flow):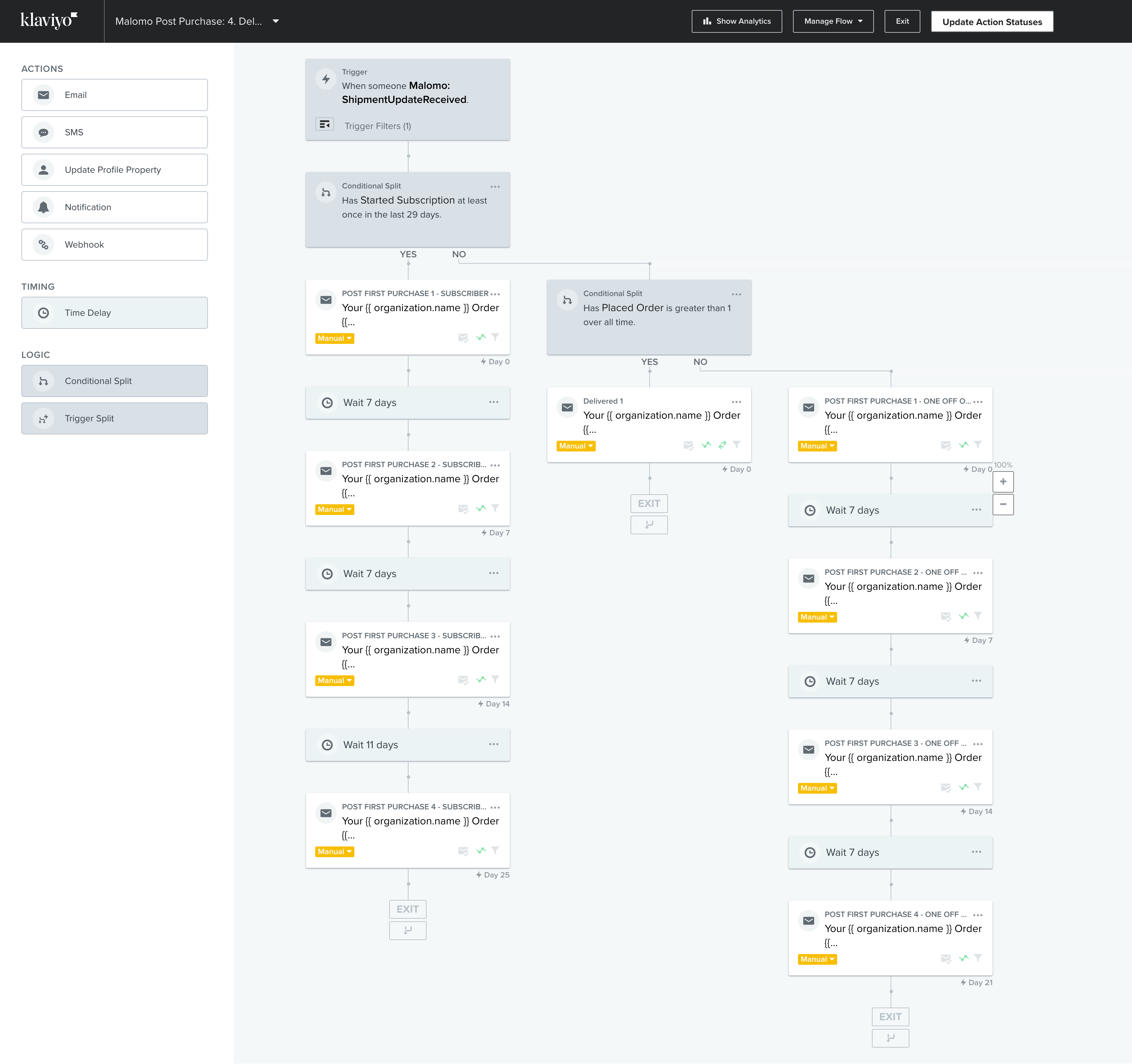 Summary
Building meaningful relationships with your customers is vital to driving customer loyalty and creating a continuous revenue stream. Businesses that strategically keep customers engaged have the potential to scale sustainably. Email marketing is a cornerstone of this e-commerce growth, enabled by Klaviyo flow automation.
Focus on giving customers the information they want. Highlight information such as: estimated delivery date, carrier, type of shipping, as well as the products in the order. Sharing specific information is important in these types of emails, so be sure to give as much detail as you can regarding the status of their order. Highlight your support options. Make it easy to contact your support team for any questions.
With automated sequences, you can encourage repeat purchasing through follow-up emails and recommendations and reconnect with unengaged subscribers to increase their customer lifetime value.